Interview with Irene Ng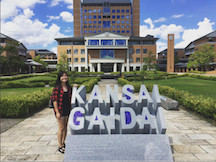 Tell us about yourself:
My name is Irene Ng, and I am an international student from Malaysia. I am pursuing a degree with Business Economics major and Japanese minor. I chose UWEC because it has a host friend program which it is a great way to learn about the culture in the States and also Eau Claire.

When and where did you study abroad?
I went to Kansai Gaidai University in Japan for study abroad during the Fall 2016 semester. UWEC and Kansai Gaidai University have exchanged students since 1978. The Asian Studies Program at Kansai was an exciting opportunity for me to take courses in English and some Japanese language courses.

How did you prepare for your study abroad experience?
I did the same thing before I came to United States. I asked my advisers and study abroad coordinator to get to know more about the program before applying. I applied for my Japan student visa with my friend's help, and everything went well throughout the application and my study abroad experience in Japan.

What were your fears before going abroad?
The language was my fear before going abroad. Most of the Japanese people speak only Japanese and it was a struggle when I first arrived in Japan as the culture is different from the United States and also Malaysia. I actually overcame this fear by speaking Japanese more to the local people and listened carefully when they spoke.

How did your study abroad experience go?
My study abroad experience was remarkable! I got to know more friends from Japan and also exchange students from different countries. I had the chance to stay with my Japanese host family and learn about Japanese lifestyle and culture. I was able to travel do different places with friends. It was a great opportunity for me to expand my global perspective.

How did you benefit from studying abroad?
I was able to build my confidence through my study abroad experience because I tried my best to speak Japanese even though I was not fluent enough. I participated in a Japanese Speech Contest in Hirakata City, which was my first time to participate in a speak contest in Japanese. Other than that, my study abroad experience actually has helped me to expand my perspective. I have the chance to compare and share the cultures of Japan, Malaysia and United States to friends, family and others.

Did you have any advice for other international students who are thinking of studying abroad?
Go for it, if you never try, you'll never know! I know it is difficult at first, especially the application process, but it is just a temporary process. The fun is waiting for you after the process. I strongly encourage international students to apply for study abroad program. You could study abroad while studying abroad.