LGBTQIA+ Students
All students who are thinking of going abroad have to take into account different factors before making their decision. If you are a student that identifies as LGBTQIA+ you may have unique questions and concerns of your own. Here are some things to consider if you are LGBTQIA+ and thinking of going abroad:
Goals in Studying Abroad
It is helpful to think about how your goals in studying abroad relate to your LGBTQIA+ identity. Some students choose to go to countries that discriminate against LGBTQIA+ individuals because they want to share the experiences of those struggling to get respected. Others choose a country that is already tolerant and affirming of LGBTQIA+ identity so they can express themselves freely. Regardless of your choice, a study abroad experience can be an eye-opening and valuable experience.
This article,
from one of our partners, USAC, talks about 5 tips for finding a LGBTQIA+ friendly study abroad program.
Laws and Safety In Relation to Sexual Identity
It is important to remember that when abroad you will no longer be protected by US laws. Some countries may have discriminatory laws against same-sex sexual behavior and expressions of LGBTQIA+ identity. Resources such as The
ILGA directory
may help you recognize which countries have the harshest laws against LGBTQIA+ forms of expression. It is always a good idea to learn about the local attitudes and laws before making your decision on where to study abroad. We encourage you to browse multiple resources to gain a well rounded view of the LGBTQIA+ climate in countries you are interested in.
The following chart includes the
Spartacus Gay Travel index rating of countries
where UWEC currently sends students on an ongoing basis. To learn more about the rankings, please see their website. (Chart below updated in June 2019).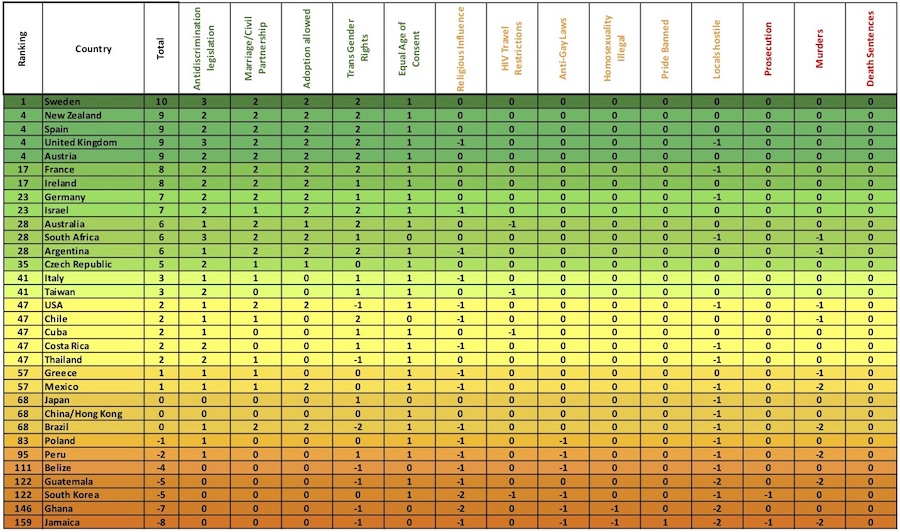 Other Resources
Scholarships for Diverse Students
UW-Eau Claire is a member of the Diversity Abroad Network and with that membership comes access for our students to apply to their scholarships. If you meet all eligibility requirements for the Diversity Abroad Network Scholarships, we strongly encourage you to apply. To learn more about those, please see our
Scholarships Page
and scroll down to "Additional Scholarship." In addition, there may be other scholarships open to you, so be sure to look through them all.