International Students
Did you realize that as an international student at UW-Eau Claire, you can participate in the study abroad programs offered through the university? You can choose a location close to your home country or explore a completely different part of the world! Here are a few things to keep in mind if you are interested in studying abroad as an international student:
Consult an international student adviser in the Center for International Education early in the planning stages to understand how studying abroad may impact any tuition benefits you may have.
You will also want to discuss any potential implications for your U.S. student visa status.
Visa requirements for your study abroad program will vary depending on your country of origin and the host country. You will want to explore what will be needed well in advance of the program.
You will earn resident credit if you participate on UW-Eau Claire programs.
Other Resources
5 steps international students need to take before studying abroad
Learn more from Irene Ng, a recent international student who studied abroad: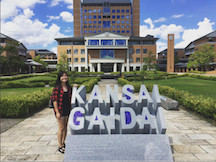 Interview with Irene