Re-entry Advice
Re-Entry Advice
A lot of time is spent encouraging students going abroad to prepare for the experience. Study abroad research has shown that coming home can be more unsettling than going abroad was! You may find that you have changed a great deal, but everything and everyone at home seems the same.
Now that you're back at UW-Eau Claire, there are many ways for you to keep your international experience alive. Get involved! Local and international activities can help you adjust to being back, as well as help you integrate your study abroad experience into your academic life and long-term goals.
There are many useful resources available on our site. We have also put together a comprehensive
Re-Entry Guide
for your convenience.
Re-Entry Adjustment
Do you feel misunderstood? Do you miss your host country? Does it seem that some people are uninterested in hearing about your study abroad experience? Do you find yourself feeling negative or intolerant toward U.S. culture, including American behavior, attitudes, customs and common social practices? You may be experiencing reverse culture shock or re-entry shock.
What is Reverse Culture Shock
Reverse culture shock is the often unanticipated, unsettled feeling you experiences upon returning to your home culture from abroad. It is a very common experience among returning study abroad students, and it is often more intense than the culture shock you may have experienced when you first went abroad. Re-entry shock is a normal part of the re-adjustment process and can last from a few days to months.
You may remember the cultural adjustment curve from orientation which illustrates the stages of cultural adaptation. The curve can be extended demonstrating the phases of reverse culture shock. The stage of initial euphoria after returning home can quickly turn to critical feelings about home. Eventually you will recover and reintegrate into your home culture. Reintegrating does not mean you lose the experience but that you learn to navigate in your home culture with the new skills and personal growth from your experiences abroad.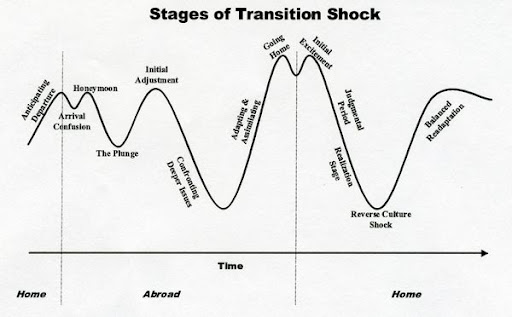 How to Cope
If you find yourself having difficulty readjusting to life in the U.S., remember the ways you were able to adapt while you were abroad. Many students find the most comfort in discussing their feelings with others who are going through the same thing. Other students in your program are a great resource! Visit the link to
Get Involved on Campus
to learn more ways to work through re-entry shock.