Re-entry Adjustment



Do you feel misunderstood? Do you miss your host country? Does it seem that some people are uninterested in hearing about your study abroad experience? Do you find yourself feeling negative or intolerant toward U.S. culture, including American behavior, attitudes, customs and common social practices? You may be experiencing reverse culture shock or re-entry shock.
What is Re-entry Shock?
Re-entry shock is the often unanticipated, unsettled feeling you experiences upon returning to your home culture from abroad. It is a very common experience among returning study abroad students, and it is often more intense than the culture shock you may have experienced when you first went abroad. Re-entry shock is a normal part of the re-adjustment process and can last from a few days to months.
You may remember the cultural adjustment curve from orientation which illustrates the stages of cultural adaptation. The curve can be extended demonstrate the phases of reverse culture shock. The stage of initial euphoria after returning home can quickly turn to critical feelings about home. Eventually you will recover and reintegrate into your home culture. Reintegrating does not mean you lose the experience but that you learn to navigate in your home culture with the new skills and personal growth from your experiences abroad.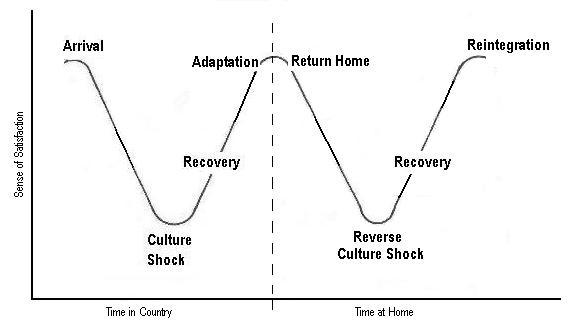 How do I cope?
If you find yourself having difficulty readjusting to life in the U.S., remember the ways you were able to adapt while you were abroad. Many students find the most comfort in discussing their feelings with others who are going through the same thing. Other students in your program are a great resource! Visit the links to Get Involved on Campus and Volunteer/Work Abroad to learn more ways to work through re-entry shock.