Advising + Events
| | |
| --- | --- |
| | |
Have no idea where to start? Need to hear more about a few (or all) programs? Have a few questions on the process? Want to talk to someone? - we have people to help and fun events to attend!
Advising
Talking to someone who knows the ins and outs about study abroad can be very helpful! We offer two levels of advising to help you:
Study Abroad Advisor or General Advising Intern: First point of contact & can help you:

Narrow down program options
Navigate the application process
Talk through budgets, scholarships, planning financially (they cannot advise on financial aid)
Talk through specific program details (timelines, deadlines, what it's like, etc.)
Learn how to use the Transfer Credit Wizard

Study Abroad Coordinators: Your contact for:

Complex or very specific academic questions (that a general advisor couldn't assist with)
Health & safety questions and preparations for when abroad
Spring 2021 Advising Hours:
| | |
| --- | --- |
| Monday | 1-2pm & 4-5pm |
| Tuesday | 4-6pm |
| Wednesday | 1-3pm & 4-5pm |
| Thursday | 12:30-3:30pm |
| Friday | 9-11am |
Spring 2021 advising will still be done virtually via phone or Microsoft Teams. All interns are trained to talk about all programs with you!
To schedule an appointment click:
Study Abroad General Advising
Choose a date/time
All interns can chat about all programs, but if you have certain ones in mind, you can select based on their region (feel free to make more than one appt too!)
Add your contact info
Provide any additional information (so we can better prepare for your appointment)
You'll receive a confirmation email with the Teams link that you can use for your scheduled appointment.
Meet our Advising Interns: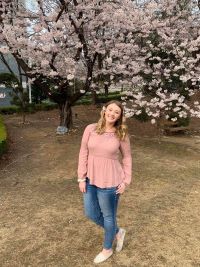 Sophia Schecklman

(She/Her/Hers)


Advises for: Africa | Asia | Middle East
Study Abroad Experience: Suwon, South Korea, Spring 2019

I'm majoring in Elementary Education with minors in TESOL and Language Arts. My favorite memory was getting involved with clubs on campus as well as the Cherry Blossom Festival on campus. At the festival, we were able to enjoy time with friends eating food, shopping from local vendors, and go to free concerts all in celebration of Spring!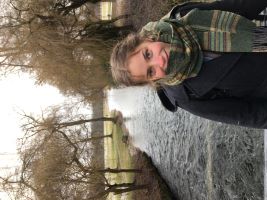 Mary Kate Schneeman

(She/Her/Hers)


Advises for: Europe (except Spain)
Study Abroad Experience: Marburg, Germany, Spring 2020

I am studying English-Linguistics, minoring in German, and getting my Teaching English as a Foreign Language (TEFL) certification. My favorite memory was socializing with friends, playing new card games, and then exploring the Marburg Castel's Flower Garden, smelling the flowers, and looking over all of the city below us.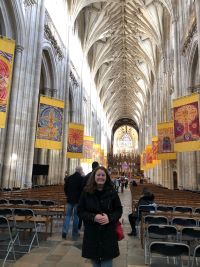 Jenna Luginbill

(She/Her/Hers)


Advises for: Australia | New Zealand | United Kingdom | Ireland
Study Abroad Experience: Winchester, England, Fall 2019

I am a third year student studying Communication Sciences and Disorders with a double major in Spanish. My favorite study abroad memory is when my flatmates made a traditional Christmas roast dinner before I left at the end of my semester abroad.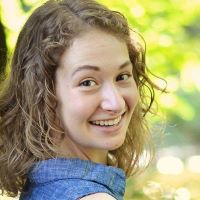 Abby Mathison

(She/Her/Hers)


Advises for: Latin America | Spain
Study Abroad Experience: Puebla, Mexico, Fall 2019

I'm an MCEA Education major with a Spanish emphasis! One of my favorite memories was walking with my host mom. She would teach me the names of flowers in Spanish and tell hilarious stories. We would laugh out loud while trying to pronounce new English and Spanish words!

Attend a Spring 2021 Event!
All events will continue to be held virtually. As we navigate COVID-19 regulations, we will update our event schedule.
Topic
Day + Time
Link to Sign Up

WINTERIM 2022, SPRING 2022 DEADLINE!


Thurs. 4/1/21 at 11:59 pm
First Time Travelers
Fri. 4/16/21; 12pm
Sign up!
Funding Study Abroad
Thurs. 4/22/21; 3pm
Sign up!
First Time Travelers
Tues. 4/27/21; 3pm
Sign up!
Learn more about what the events entail:
Get the Scoop:
Learn more about study abroad and get free ice cream while you do! Returnees from a variety of programs will be on hand to help answer some of your study abroad questions. In case of rain, the event will be held right inside the front doors of Davies. (fall only - NA fall 2020)
First Steps to Study Abroad Info Session:
Learn how to research and apply to a UWEC program. You'll learn about things to consider when selecting a program, program opportunities, how to start an application, application deadlines, etc. Each session covers the same content, so find the one that works best for you! Each session will last 30-40 minutes.
Attend the Study Abroad Fair:
You can still catch the Study Abroad Fair virtual sessions on this page:
Study Abroad Fair 2020
! From a variety of program highlight sessions to returnee panels, you can learn a lot!
Find out more about EVERY program UWEC has to offer! Meet students who have experiences with the programs you are interested in. We'll also have some visiting staff from our international partner universities and faculty who lead some programs. This is our largest event of the year so you won't want to miss it! (fall only)
Funding Study Abroad Info Session:
Discover ways to fund your study abroad experience. This session will cover what type of scholarships are out there, financial aid, saving ideas, etc. All sessions cover the same content, so find the one that works best for you! Each session lasts about 30-40 minutes.
Applying for Scholarships:
Learn how to navigate the Gold for Blugolds site to find out more about UWEC Foundation scholarships. You'll also learn about nation-wide scholarships and to write a competitive/ well thought out essay for your applications. Each session covers the same content, so find the one that works best for you! Each session will last 30-40 minutes.
First Time Travelers:
This session is intended for students applying for/accepted to UWEC study abroad programs who have limited to no travel experience but all are welcome as you may learn something new! Each session covers the same content, so find the one that works best for you! Each session will last 30-40 minutes.
Returnee Panels
Occasionally we may hold returnee panels that focus on a variety of topics. Check the calendar above to see if any are planned.