Talk to an Advisor
We offer three levels of advising to help you select the study abroad program that is best for you!
General Advisors can

Help you narrow down your program options
Answer questions on how to begin the application process

Peer Advisors can:

Answer specific questions about their program(s)
Give a first-hand perspective on studying/living in that country

Study Abroad Coordinators can

Answer questions about your programs that don't have a peer advisor
Discuss specific or complex academic questions
Address questions about health and safety abroad
Not sure where to study or what your options are? Have no fear, two general advisors are here to help you narrow down your program options or answer any questions you may have on studying abroad. The General Advising office hours for spring 2018 are:
| | |
| --- | --- |
| Mondays - Thursdays | 1pm-3pm |
To make an appointment you can call 715-836-4411 or just walk-in to Schofield 3 during the hours listed above.

Peer Advisors
Narrowed down your program options but want to learn firsthand what it's like to study there? Come chat with a peer advisor! Their office hours are listed below and you can either call 715-836-4411 to make an appointment or just walk into Schofield 3 during their office hours. Office hours for spring semester end April 27th.

Australia

| Kayla Sauve |

Thursdays, 9-11am

I am a Social work major minoring in Psychology. I studied abroad in Lismore, Australia the spring of my sophomore year. One of my favorite memories from studying abroad was going to "Toga night", which was held by the University. Toga night, was where everyone dressed up in Toga's and found different accessories to make them look like Greek gods and goddesses. It was a lot of fun making toga's with my friends out of bed sheets and tablecloths or really whatever we had laying around. I love Orion (the on campus apartments that the international students live in) because everybody is very welcoming and including.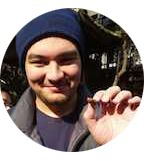 China/Thailand

| Ryan Bleau |

Wednesdays, 12-2pm
I am an international business major with minors in marketing and Chinese East Asian studies. One of my favorite memories was traveling to Yellow Dragon Village with my fellow USAC students. There were vendors selling deep-fried insects and we all started daring each other to try them. To my surprise, many of us mustered up the courage to try a bit. I love this memory because it reminds me that when people are put into a foreign environment, and are sharing new experiences with each other, we are willing to try things that can push our comfort zones to our limits.
England: Harlaxton

| Rachyl Hieptas |
Fridays, 9-11am

I am majoring in Biology and Spanish. My favorite memory would probably be from the night after the last British Studies lecture. The Faculty, after seeing the students excel on multiple occasions earlier in the semester and having nothing to lose as it was the end of the semester, decided to have their own karaoke night in the Bistro which is the college's pub in the basement of the manor. Multiple members of the faculty and staff, including the college principal, sang karaoke complete with backup dancers. Many a snap story was filled with professor's renditions of classics such as "Lean on Me" and "Livin' La Vida Loca". It was hilarious and a great way to end the semester. That is one of the special things about Harlaxton. You live in the same building as many of your professors so there is the opportunity for fun events like this to happen.
England: Winchester

|Brianna Zey
|

Thursdays 12:30-2:30pm

I am a Behavior analysis major and a French education major! Since my time in Winchester was so great, I cannot choose just one favorite memory so here are two; the time when my flatmates and I had a picnic on top of St. Catherine's hill and the time when my football friends and I played football with the boys team in the pouring rain, how British of us!
France

| Anneka Shaver | Mondays, 12-2pm
I have a double major in French and English and a Japanese minor. I had a blast studying abroad in Lyon, France! My favorite memories from study abroad were getting breakfast at cute boulangeries, walking through town and along the rivers at sunset, seeing the Ferris wheel light up every night in the town center during the winter, and having picnics in the parks and visiting the zoo with friends in the warmer weather!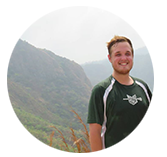 Ghana

|

Max Veldran | Wednesdays, 9-11am
I am a public history major and my favorite memory from Ghana was visiting a floating village in the Volta Region.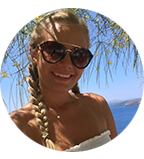 Greece

|

Jena Wagner | Mondays, 3-4:30pm
I am a sophomore majoring in criminal justice and minoring in psychology. I went to Greece in summer 2017 and was the first UWEC student to do the summer program. My favorite memory from this program was when my professor took our class on a field trip to Apostle Paul's first catacomb and gave a tour of the area that is filled with history.

Ireland

| Elizabeth Schill | Call our office for hours (715-836-4411)
I am an elementary education major with a language arts minor. There were so many great memories that I had from my study abroad experience in Limerick, Ireland but there's one that sticks out the most. It was the beginning of finals and a bunch of us international students decdied to get together and have one last night together. We had a potluck at someone's house and then we walked down to the beach area and just listened to music and danced for a couple of hours. It was one of the best nights of my study abroad experience because I felt so lucky to have all these wonderful people surrounding me!
Italy

| Sarah Hollenback |

Thursdays, 12:30-2:30pm
I am a double major in Journalism and English. It's too hard to pick just one! I'd have to say my favorite memory would be the first day exploring Florence; seeing the Duomo and bell tower for the first time and climbing to Piazzale Michelangelo to watch the sun set over the city. I have endless fond memories being in Italy, I could go on forever.
I am majoring in political science and Spanish. I studied abroad for the summer 2017 program in Puebla, Mexico. I made so many great memories from my time abroad. One of my favorite memories was spending time in a public elementary school and playing with the kids at recess.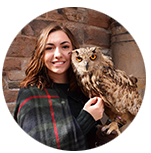 I am a junior majoring in communication sciences and disorders. My favorite memory from Aberdeen was attending a Ceilidh for study abroad students and learning the traditional dances.



Spain

|

Ellen Conger | Mondays, 9-11am
I am a Spanish liberal arts major along with a TEFOL and LAS minor. One of my favorite memories in Valladolid was when some friends and I went out for tapas after an intercambios at our university and there was live flamenco dancing and music which gave us great insight into the Spanish culture.
You can find the list of Study Abroad Coordinators by
clicking here.
Once on that site, if you click on any coordinator's name, you will find the programs they manage.