About Us
Study Abroad Mission Statement
The mission of the study abroad unit of the Center for International Education is to enhance the University of Wisconsin - Eau Claire student experience by developing and administering high-quality international academic programs that are integrated into the campus curriculum. We provide students with opportunities to cultivate intercultural competency by engaging with people, cultures, languages, and systems abroad, in order to foster global citizens who have personal and professional skills for lifelong learning in a diverse world.
Unit Goals
We fulfill our mission through a commitment to:
Develop and promote international academic programs for all curricular areas.
Develop and promote international academic programs with a focus on whole world study.
Encourage participation by all students, particularly those traditionally underrepresented in study abroad.
Foster development of intercultural competency and communication skills.
Support students in planning, processing, and articulating their experience during pre-departure preparations, while abroad, and upon return.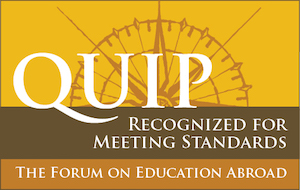 The University of Wisconsin - Eau Claire is a member of the Forum on Education Abroad, the official U.S. Department of Justice standards-settingorganization for education abroad. The Center for International Education study abroad unit was recognized in February 2017 for meetingthe Forum on Education Abroad's
Standards of Good Practice
and ascribes to the Forum's
Code of Ethics
.