Financial Information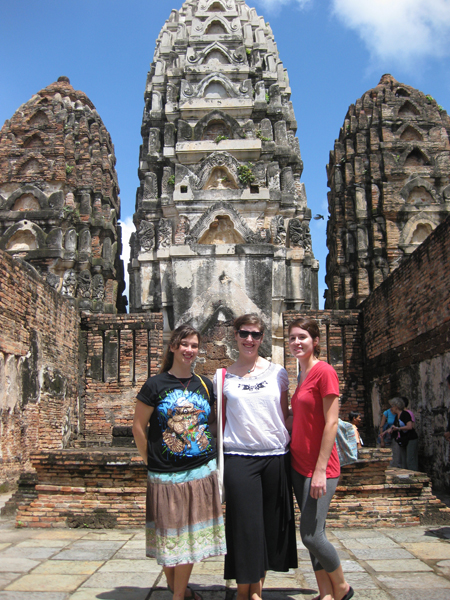 Budgeting
Compare program costs before you decide on a program. Each program web page has a cost estimate sheet attached. Take a look!
Many students are on a tight budget while abroad. Before you go, estimate as closely as you can how much money you have available for your time abroad, and then estimate your expenses. The Financial Aid office has an online budget calculator you can adapt for this purpose at http://www.uwec.edu/asp/finaid/budgetcalc/. Note that the big category missing from the calculator is personal travel. If this is part of your plan for your time abroad, do not forget to budget it in!

You will generally pay your passport and visa expenses (if a visa is required), tuition, fees, insurance, and international airfare before you even arrive in your host country. You may also pay for housing and some or all meals, depending on the program. Deduct those expenses from your total money available.

Next, figure out how much money you will need at different points of the program. For example, do you have to pay for your housing for the full term when you first arrive? What about books? Other items? Deduct these up-front expenses from your remaining total.

Finally, take whatever amount you have left and divide it by the number of weeks you will be abroad. Then, figure out how much this is in the currency of your host country. You can find a currency converter at http://www.oanda.com/converter/classic. You now know your budget limits!

Once you are abroad, keep a running tally of everything you spend. Past students who have budgeted successfully recommend that you update the list daily, so you are always aware of how much you are spending. Be conservative at the beginning. It's always better to have a little extra for one more weekend trip at the end of the program, instead of spending freely at first and running low. It's also important to know your priorities: do you really want to go out three nights a week, or would you rather have the money for some additional travel?

Currency Exchange
United States dollars or traveler's checks can generally be exchanged for foreign currency at international airports, railroad stations, and banks. You pay a commission every time you exchange money, so budget wisely!

Strategy: Several Ways to Get Money
Past participants suggest a combined approach to money abroad.
• Bring $100-$200 in the currency of your host country with you, or change that amount in the airport before heading out into the country. Be aware of your arrival time--if you are arriving late, or on a weekend, the airport bank may be closed.
• Bring a credit card (Visa or Mastercard) for purchases.
• Bring a debit (cash/ATM) card for cash withdrawals.
• And bring some money in traveler's checks, for those times when your cards won't work, or you can't find a convenient ATM.
More on each strategy is discussed in the following sections.

Credit Cards
If you are going to take a credit card (strongly recommended) Visa and Mastercard are more widely accepted than American Express. Use your credit card for purchases, rather than cash advances. Even though most credit cards now charge a foreign currency transaction fee on every purchase, the better exchange rate still makes this the best option.

Find out what your daily credit limit is, and let your card company know that you will be abroad, so that they are not concerned when charges start posting from another country.

If you need to use your card for a cash advance, there are instant cash machines in many locations (see Web Resources in this guide for details). These machines accept many types of cards. You will need your PIN (personal identification number) to do this. Be sure to bring it with you, and be sure it is valid in your host country. Most international ATMs require a 4-digit PIN. Remember that most credit card companies begin charging interest (9-18%!) immediately on cash advances.

Finally, keep a copy of your card (front and back), so that you have all of the information about it should it be lost or stolen.

Debit Cards
To access cash abroad, check with your bank about a debit card (cash card, ATM card) that can also be used at ATMs internationally. When you use the ATM abroad, it will give you the currency of the country where you are.

Debit cards draw directly from your bank account at home. Most banks charge a service fee for each transaction, so you may want to take out larger amounts rather than make several small withdrawals.
U.S. banks are allowed to block use of debit cards in countries where they feel "too much fraud" has been reported by the U.S. government. This is an institutional decision and varies by bank. Check with your bank to be sure you will be able to use your card in your host country, as well as in countries where you plan to travel!

If you make the necessary arrangements with your bank before you leave, someone at home can put more money into your local checking account for you to use. Again, you should find out what your daily withdrawal limit is, alert your bank or card company that you will be abroad, and keep a copy of your card (front and back), so that you have all of the information about it should it be lost or stolen.

Traveler's Checks
Traveler's checks are the safest way to physically carry money; however, they are not particularly convenient. You may wish to bring some money in traveler's checks as an emergency reserve, in case you cannot find an ATM that will accept your debit or credit card, or in case your cards are lost or stolen.

Traveler's checks generally must be cashed at a bank, although in some countries post offices also offer this service. You must have your passport with you. Most banks charge a fee for cashing the checks; it can vary widely. Before cashing a check, ASK what the fee is.

Make sure you record your check numbers and keep the numbers separate from the checks, in case you need to get them replaced. It is even more to your advantage if you leave the numbers with your parent(s), or exchange numbers with a fellow student for easiest notification in the event they are lost or stolen.

Bank Account
If you are studying abroad for the full academic year, you may want to open a bank account in your host city. You will receive details at your host university's orientation.

Online Banking
Past participants recommend online banking as a way to check your U.S. account balances. You can transfer money between U.S. accounts online. Check with your bank for details and availability.

Power of Attorney
To ensure that a trusted person at home can take care of your finances while you are abroad, you may wish to grant Power of Attorney. See the Financial Aid section of this handbook for more information.

Moving Money Quickly
If you have budgeted in advance and followed the strategies for accessing money, you should be in good shape while abroad. But the unexpected can happen--well, unexpectedly! If you need to have money sent to you from home, it can take anywhere from 72 hours to 30 days, unless you have a credit/debit card. Have an emergency transfer plan worked out with your parents or another trusted person at home. Things to consider:

1) Have someone at home listed as a joint signatory on your checking account. This will allow them to deposit money to the account, (which you can then access electronically through your debit card), write checks to cover bills, etc.

2) Bring some money in traveler's checks as a back-up in case you cannot get money electronically.

3) If you cannot access money electronically (i.e., your cards were lost/stolen), a Foreign Bank draft can be sent to you in the money of the country you are in. This works like a money order: the sender pays for it here in dollars; it is then written like a money order, but in pounds or pesos, for example. You take it to a bank and cash it. Total time before you have access to the money: 5-10 working days.

4) Someone at home can go to an American Express or Western Union office (often a travel agency can help) and wire money to an American Express or Western Union office abroad. 2-5 working days.

5) Money can also be wired directly from a U.S. bank to a bank account in your name, if you have opened one abroad. 5-7 working days.