What is Fulbright?
What is Fulbright?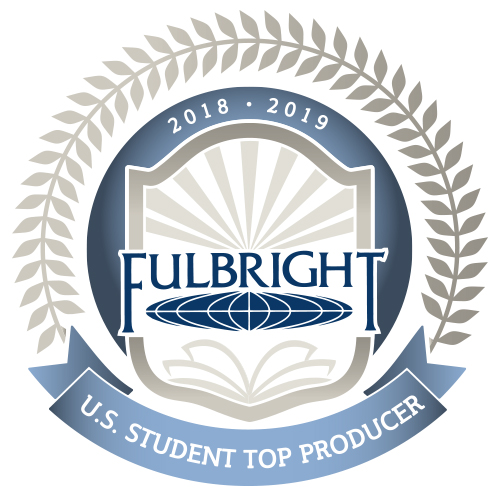 The Fulbright US Student Program provides international grants for individually designed study/research projects, or for English Teaching Assistantships abroad. Graduating seniors and recent college graduates are eligible to apply.
The program is looking for bright, community-minded individuals with a passion for their discipline, who are interested in promoting mutual understanding through cultural exchange. There is no minimum GPA requirement. Fulbright is sponsored by the U.S. Department of State.
Did you know that:
Fulbright offers more than 1,900 grants in roughly 150 countries?
25 UW-Eau Claire students/recent grads have been Fulbrighters since 2010? See a list here: Fulbright Grantees Past 10 Years
There is a complete list of UW-Eau Claire Fulbrighters, in the Grantee Directory on the Fulbright website?
What's Included
There is some variation by country, but most grants provide round-trip transportation, a room and board stipend sufficient to cover living expenses in the host country, and insurance. Some also provide tuition waivers and/or a research allowance. See the
country summaries
on the Fulbright website for details.
2020-2021 UWEC Fulbright Updates
Five UWEC applicants have been offered awards and one is an alternate in the 2020-2021 US Student competition. Congratulations to all!
2020-2021 UWEC Fulbrighters
Nicole Gottfredsen, Germany, Study/Research (B.A., December 2018, Psychology & German. Studied abroad in Marburg, Germany, Spring 2017)

Megan Henning, Czech Republic, English Teaching Assistantship (B.A. anticipated May 2020, Secondary Education (Broadfield Social Studies) and History. Participated on the Great Britain Public History program Summer 2017 and the Central European Travel Seminar, Summer 2018)

Elisabeth Rusch, South Korea, English Teaching Assistantship (B.A. anticipated May 2020, Communications. Studied abroad in Legon, Ghana, Spring 2018; participated on the Jamaica-Transnationalism and Tourism program, Winterim 2020)

Noah Turecek, Taiwan, English Teaching Assistantship (BBA anticipated May 2020, International Business & Information Systems. Studied abroad in Chengdu, China, Summer 2018)

Carissa Zibolsky, Panama, English Teaching Assistantship (BA anticipated May 2020, Special Education & Spanish. Studied abroad in Chile, Spring 2018; participated on the Special Education in Scotland program, Summer 2019)
Alternate
Mai Lee Yang, Thailand, English Teaching Assistantship. (BA anticipated May 2020, Psychology. Participated on the Central European Travel Seminar, Summer 2018; Representing Cultures in Southwest China, Winterim 2019; Thailand-Hmong Studies, Summer 2019)
2019-2020 UWEC Fulbrighters
Laura Atchley, B.A., Organizational Communication & Psychology, May 2014: Malaysia, English Teaching Assistantship
Allyson Breyer, B.S., Elementary Education & Special Education, December 2018: Netherlands, English Teaching Assistantship
Courtney Brost, B.A. English & Latin American Studies, May 2015: Brazil, English Teaching Assistantship
Annisa Luginbill, B.S., Elementary Education & German Education, May 2019: Germany, English Teaching Assistantship
Hannah Schneeman, B.A., German Education & English Education Early Adolescent, December 2018: Germany, English Teaching Assistantship
Kanu Shenoi, B.A. German and Political Science, May 2019: Germany, English Teaching Assistantship
Alternate:

Cheyenne Bonincontri, B.A., Biology Education & Spanish Education, August 2019: Ecuador, English Teaching Assistantship

UWEC Fulbright Reflections

Below are brief bios on recent UW-Eau Claire Fulbrighters, as well as reflections from some alumni on how their Fulbright experiences have influenced their career paths.

Lara Steinike, Germany, English Teaching Assistantship, 2016-2017
Karlene Groshek., Turkey, English Teaching Assistantship, 2015-2016
James Hahn, Spain English Teaching Assistantship, 2008-2009
Angela Koch, Bulgaria English Teaching Assistantship, 2015-2016
Sarah Janes Ugoretz, Mexico Study/Research, 2008-2009
Claire Lind., Turkey, English Teaching Assistantship, 2015-2016
Bethany Webster, Germany English Teaching Assistantship, 2011-2012